Here at Keedwell Scotland, we offer a flexible range of delivery options with the reassurance of knowing that your palletized freight will be delivered on time and intact. Our pallet service specialists make it simpler, easier and quicker to meet your needs. We discuss everything you need to know about how logistics companies and pallet network's function.
What are pallets?
Pallets come in various sizes and types, however generally, the most common pallets in the UK are large, wooden, flat structures designed to allow a forklift to pick up them up with ease and transport products safely and securely. Pallets are also occasionally made from plastic; however, they are not as durable. Furthermore, without a pallet, your items may become damaged or even lost in transit. Therefore, pallets mainly only benefit the vendor as, without them, you would not be able to ship goods as safely or easily. There are two main types of pallets that pallet couriers use:
Standard wooden pallets which are generally used for small, lighter items such as fruit and vegetables.
Moulded wood pallets which are designed to hold up to 1000 kilograms of weight and are naturally more versatile than standard pallets.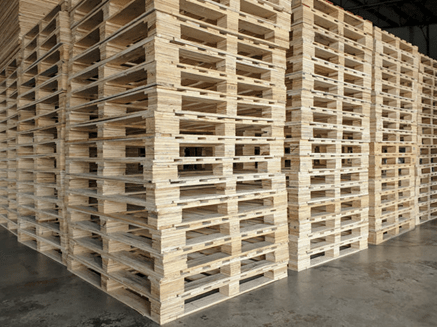 Deciding what pallet size
Figuring out what pallet size you need to ensure the safety of your goods can be difficult, we can provide you with a personalised quote. Typically, it is recommended that you use a slightly bigger pallet than the products you want to send as this will prevent them from becoming damaged. However, if you are still unsure, do not hesitate to get in touch for advice as we will be able to help you determine which size of pallet will be best suited to the goods you wish to transport.
Standard Pallet Sizes
¼ Pallet
Length (120cm)
Width (100cm)
Height (80cm)
½ Pallet
Length (120cm)
Width (100cm)
Height (100cm)
Full Pallet
Length (120cm)
Width (100cm)
Height (120cm)
Benefits of using pallets
There are many advantages of using pallets for both companies and individuals when sending goods or products such as:
Easy to use
Goods are easier to transport when shipping them using pallets as you are able to stack a multitude of items together on one pallet, meaning there are less items to keep track of for the shipper.
Durability
Due to pallets being much stronger and durable than other shipping materials, we are able to stack heavier/large quantities of products onto a single pallet and send them in one shipment to your desired location. In addition, pallets keep contents safe from becoming dirty or damaged by keeping them raised, ensuring they do not touch the ground.
Weight and size
Pallets are strong and rather lightweight which means they do not take up a great deal of storage space as they can be stacked up, especially in a distribution warehouse. A further benefit of pallets being lightweight is that they do not add much weight to the items being shipped and a single pallet is light enough for an individual worker to carry.
Recyclable
Pallets are always made from recyclable materials such as plastic, metal and wood. Metal and plastic pallets can be recycled by melting and recasting them, whereas wooden pallets will eventually wear down by themselves. Alternatively, wooden pallets can be dismantled and reused for other purposes such as firewood or in construction projects.
Our pallet service specialists make it simpler, easier and quicker to meet your needs, get in touch today.